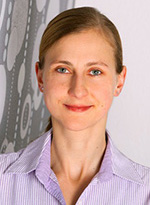 Dr. Susanne Sievers
Senior Scientist, Group Leader
Department for Microbial Physiology and Molecular Biology
Felix-Hausdorff-Straße 8 - room-nr.: 1.49
17489 Greifswald
phone: +49 (0)3834 420 5900
fax: +49 (0)3834 420 5902
email: sieverss(at)uni-greifswald(dot)de
Curriculum Vitae
| | |
| --- | --- |
| since 04/2021 | Leader of the "Microbial Physiology & Molecular Biology" Group |
| 02/2017 – 03/2021 | group leader in the Institute of Microbiology, University Greifswald |
| 02/2016 – 01/2017 | maternity leave |
| 04/2014 – 01/2016 | post-doc with Katharina Riedel, University Greifswald |
| 02/2013 – 03/2014 | maternity leave |
| 02/2011 – 01/2013 | postdoctoral fellowship of the German research foundation with Birgitte Kallipolitis at the SDU, Odense, Denmark |
| 02/2010 – 01/2011 | maternity leave |
| 07/2009 – 01/2010 | postdoc in the group of Michael Hecker, University Greifswald |
| 09/2005 – 07/2009 | dissertation on the "Establishment and application of non-2-D gel-based techniques for identification and quantification of challenging protein classes in Gram-positive bacteria" with Michael Hecker, University of Greifswald |
| 11/2003 – 03/2004 | visiting researcher in the group of Ursula Jakob, University of Michigan, Ann Arbor, USA |
| 10/2000 – 08/2005 | study of Biochemistry, University of Greifswald |
Research Interests
to investigate how the human pathogen Clostridium difficile responds to infection-relevant conditions and to compile proteomic stress signatures in order to develop new weapons against this increasingly problematic pathogen


to elucidate the mechanistic details of C. difficile's tolerance to oxygen and high concentrations of bile acids



to comprehensively describe alterations in thiol proteomes and identify specific cysteine modifications
Publications
Karyolaimos A, Dolata KM, Antelo-varela M, et al. Can Adapt Its Protein Translocation Machinery for Enhanced Periplasmic Recombinant Protein Production. Front Bioeng Biotechnol. 2019;7:465. PMID:32064253

Karyolaimos A, Ampah-korsah H, Hillenaar T, et al. Enhancing Recombinant Protein Yields in the Periplasm by Combining Signal Peptide and Production Rate Screening. Front Microbiol. 2019;10:1511. PMID:31396164

Sievers S, Metzendorf NG, Dittmann S, et al. Differential View on the Bile Acid Stress Response of . Front Microbiol. 2019;10:258.PMID:30833939

Guerrero montero I, Dolata KM, Schlüter R, et al. Comparative proteome analysis in an Escherichia coli CyDisCo strain identifies stress responses related to protein production, oxidative stress and accumulation of misfolded protein. Microb Cell Fact. 2019;18(1):19.PMID:30696436

Dolata KM, Montero IG, Miller W, et al. Far-reaching cellular consequences of tat deletion in Escherichia coli revealed by comprehensive proteome analyses. Microbiol Res. 2019;218:97-107.

Berges M, Michel AM, Lassek C, Nuss AM, Beckstette M, Dersch P, Riedel K, Sievers S, Becher D, Otto A, Maass S, Rohde M, Eckweiler D, Borrero-de Acuna JM, Jahn M, Neumann-Schaal M, Jahn D. Iron regulation in Clostridioides difficile. Front Microbiol. 2018. 9:3183. PMID:30619231

Sievers S. Membrane Proteomics in Gram-Positive Bacteria: Two Complementary Approaches to Target the Hydrophobic Species of Proteins. Methods Mol Biol. 2018;1841:21-33.PMID:30259477

Neumann-Schaal M, Metzendorf NG, Troitzsch D, Nuss AM, Hofmann JD, Beckstette M, Dersch P, Otto A, Sievers S. Tracking gene expression and oxidative damage of O-stressed Clostridioides difficile by a multi-omics approach. Anaerobe. 2018 May 31. pii: S1075-9964(18)30103-3 29859941.

Sievers S, Dittmann S, Jordt T, Otto A, Hochgräfe F, Riedel K. Comprehensive redox profiling of the thiol proteome of Clostridium difficile. Mol Cell Proteomics.2018 Mar 1. PMID: 29496906.

Otto A, Maaß S, Lassek C, Becher D, Hecker M, Riedel K, Sievers S. The protein inventory of Clostridium difficile grown in complex and minimal medium. Proteomics Clin Appl.2016 Oct;10(9-10):1068-1072. PMID: 27511832.

Sievers S, Lund A, Menendez-Gil P, Nielsen A, Storm Mollerup M, Lambert Nielsen S, Buch Larsson P, Borch-Jensen J, Johansson J, Kallipolitis BH. The multicopy sRNA LhrC controls expression of the oligopeptide-binding protein OppA in Listeria monocytogenes. RNA Biol.2015 Jul 15:0. PMID: 26176322.
Voigt B, Albrecht D, Sievers S, Becher D, Bongaerts J, Evers S, Schweder T, Maurer KH, Hecker M. High-resolution proteome maps of Bacillus licheniformis cells growing in minimal medium. Proteomics.2015 Apr 13. PMID: 25867794.
Kohler C, Wolff S, Albrecht D, Fuchs S, Becher D, Büttner K, Engelmann S, Hecker M. Proteome analyses of Staphylococcus aureus in growing and non-growing cells: a physiological approach. Int J Med Microbiol.2005 Dec;295(8):547-65. PMID: 16325551.