Research Group "Physiological Proteomics & Bioinformatics" (Prof. K. Riedel)
The Riedel group focus on the following research topics:
elucidation of the molecular basis of infections by opportunistic pathogens such as Pseudomonas aeruginosa, Burkholderia sp., Clostridium difficile, Staphylococcus aureus by in vitro and in vivo proteome analyses
metaproteomics and microscopic analyses to unravel structure and functions of pathogenic mono- and mixed-species biofilms
environmental proteomics to study microbial communities in terrestric and aquatic habitats, i.e. leaf litter, soil, lichens, fresh water & marine microbial aggregates
development of innovative tools for the analysis, integration and visualization of comprehensive "omics" datasets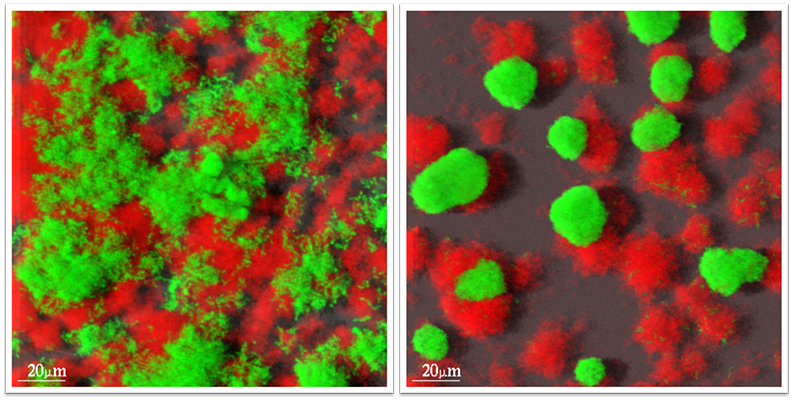 Further Reading & Key Publications:
Subgroup "Data analysis and Data integration" (Prof. Katharina Riedel, Dr. Jörg Bernhardt)
Very large dataset are generated particularly by omics technologies and meta studies. We are working on global analysis strategies and how to integrate data from different omics technologies such as Transcriptomics, Proteomics, and Metabolomics. By this new insights can be provided into the adaptive physiology and pathogenicity of bacteria (e.g. Staphylococcus aureus). Furthermore, we are interested in complex microbial communities (microbiomes) and are working on appropiate meta analysis workflows. Prophane (http://www.prophane.de) and Aureolib (http://aureolib.de) are examples of successful data analysis and, respectively, integration ressources initiated by our group.
Senior Research Group "Stress Physiology" (Dr. Ulf Gerth)
The Bacillus subtilis σB-dependent general stress response: More than 200 genes belong to the σB-dependent general stress regulon. These proteins equip the non-growing cells with a multiple, non-specific and preventive stress resistance in anticipation of "future stress". The "fine-tuned" gene regulation and function of single stress proteins in the establishment of a global resistance against heat, ethanol, oxidative and osmotic stress are currently analyzed. Furthermore, the integration of the general stress regulon into a highly sophisticated adaptational network is being investigated.
"The Bacillus subtilis Clp machinery": Regulation of the stress-inducible clp genes depends predominantly on the transcriptional CtsR repressor. CtsR is targeted by the ClpEP and ClpCP proteases during heat stress. Moreover, ATP-dependent proteolysis mediated by Clp proteases can also be observed during general stationary-phase phenomena, such as glucose starvation, competence development and sporulation. Mechanisms that finally result in the inactivation and degradation of transcriptional regulators and proteins, which lost their "duty" are currently investigated. Moreover, the role of the McsB arginine kinase, an adaptor protein of the ClpCP protease, is in the focus of our research.
Further Reading & Key Publications:
Reder et al. Cross-talk between the general stress response and sporulation initiation in Bacillus subtilis – the σB promoter of spo0E represents an AND-gate. Environ Microbiol (2012) 14(10), 2741–2756. PMID: 22524514.
Reder et al. The modulator of the general stress response, MgsR, of Bacillus subtilis is subject to multiple and complex control mechanisms. Environ Microbiol (2012) 14(10), 2838–2850.PMID: 22812682.
Elsholz et al. CtsR, the Gram-positive master regulator of protein quality control, feels the heat. EMBO J. 2010 Nov 3;29(21):3621-9.
Elsholz et al. Global impact of protein arginine phosphorylation on the physiology of Bacillus subtilis. PNAS 2012 May 8;109(19):7451-6 PMID: 22517742.